AKATSI SOUTH DISTRICT HOSPITAL PROFILE
INTRODUCTION
Akatsi South District Hospital is a health facility under the supervision and guidance of Ghana health Service. Ghana Health Service (GHS) is a public Service body established by Act 525 of 1996 of the parliament of Ghana.
The Akatsi District Hospital is located at Kpotame along the Akatsi-Tadzewu road. It was built as a Dental Clinic in 1992 by the Social Security and National Insurance Trust (SSNIT) and had operated as such until 1994 where it was handed over to the Ministry of Health and upgraded to a Health Centre for the district. The Health Centre was upgraded to the status of a District Hospital in the year 2006. The hospital has now become the final referral hospital in the Akatsi District after it was upgraded to a District Hospital status in 2006.
MANAGEMENT
The core management committee whose membership is in conformity with the Ghana Health Services BMC management policy manages the hospital. Its membership is made up of the six staff.
These are:
Medical Superintendent (Chairperson) – Dr. Kofi Karikari Bonsu
Matron – Ms. Nancy Adogla
Accountant – Mr. Francis Dah
Administrator – Mr. Mawuli Asimenu
Pharmacist – Mr. Thomas Eduku
Clinical Co-ordinator – Dr. Roch Sotinjo
In the spirit of good corporate governance and for effective discharge of administrative duties, the Akatsi South District Hospital adheres to the chain of command and communication as depicted in the organogram below: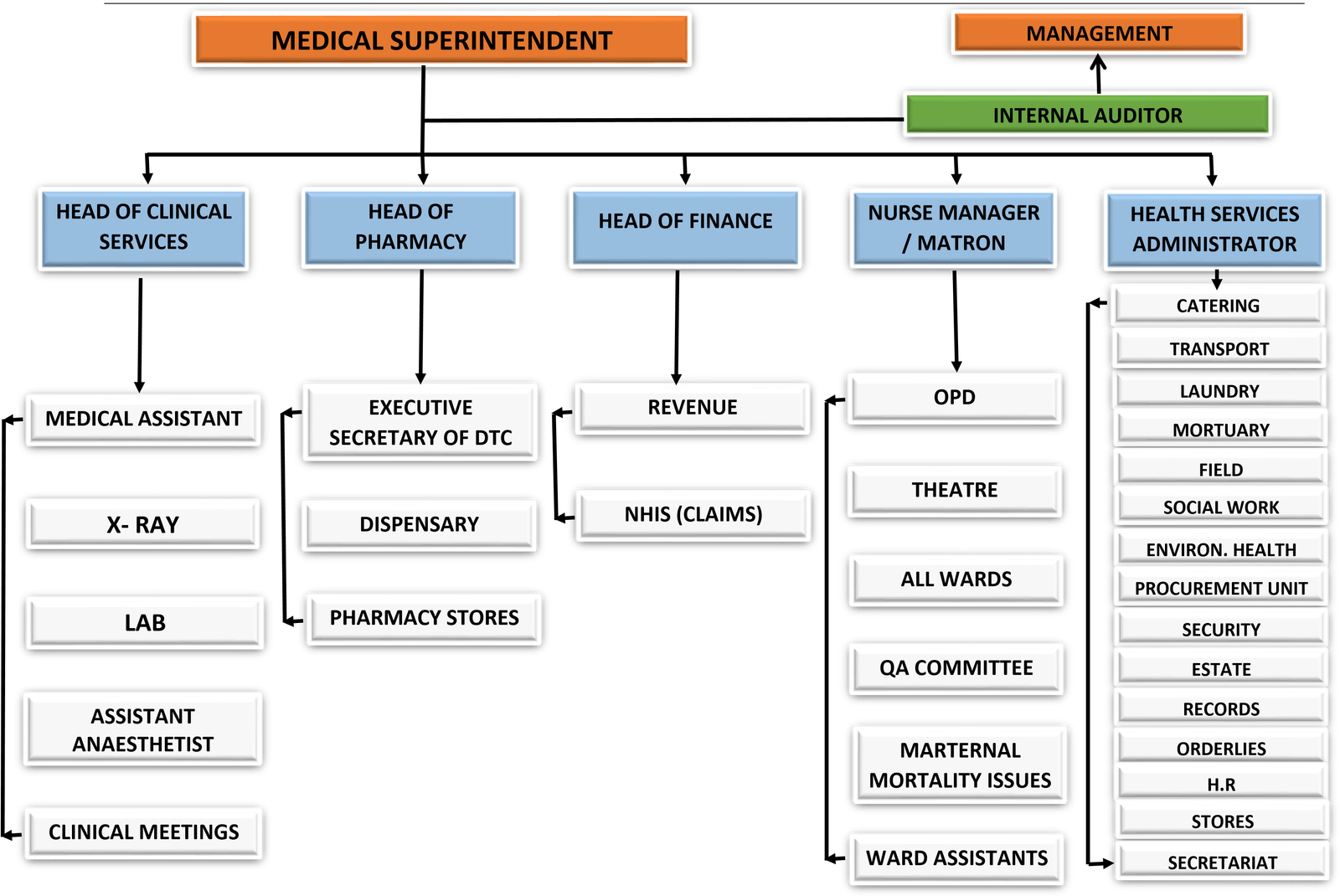 THE FACILITY'S MISSION, VISION AND CORE VALUES
VISION:
Our vision is excellent health delivery, a healthy nation.
MISSION:
Akatsi District Hospital is committed to providing quality health care through teamwork and exhibition of the highest level of professionalism to exceed clients' expectation.
CORE VALUES:
1. Team work
2. Commitment
3. Tolerance
4. Integrity
5. Mutual Respect for All Stakeholders
6. Care and Empathy
7. Obedience
8. Innovation
9. Discipline
HEALTH SERVICES PROVIDED
The hospital offers the following services:
OUT-PATIENT SERVICES:
1. 24 Hours Emergency Service
2. General Out-Patients' Department Services
3. Laboratory and Blood Bank Services
4. Pharmacy and Dispensary Services
5. Imaging Services (X-Ray, ECG and Ultra Sound Scanning)
6. Mental Health Services
7. Eye Care Services
8. Ear, Nose and Throat (ENT)
9. Cervical Cancer Screening
10. ART Clinic
11. Hypertension and Diabetes Clinic
12. Injection and Dressing Services
13. Records and Information Services
IN-PATIENT SERVICES:
Medical
Surgical
Obstetric and Gynaecological Services
Paediatrics Services
PUBLIC HEALTH SERVICES:
ANC and Postnatal Services
Maternal and Child Health Services
Family Planning Services
Immunization Service
SPECIALIST SURGICAL SERVICES
ACHIEVEMENTS
The Akatsi South District Hospital has since attaining a district hospital status held on to its core values and has achieved the following:
1. Has remained the main and reliable final referral hospital in the district.
2. Had not recorded maternal mortality for over 2 years until 2020.
3. The facility had successfully done over 480 surgical cases (both major and minor) for the first half of 2020.
4. Expansion of the emergency unit.
UNCOMPLETE INFRASTRUCTURE PROJECTS
Fig. 1. Motuary project
The above is a picture of an on-going construction mortuary project being sponsored by Adinkra Foundation, the same non-governmental organization (NGO) that sponsored the construction of the maternity ward of the hospital.
Also, below are pictures of government sponsored infrastructure projects yet to be completed.
Project commenced on 2nd September 2013 and was scheduled for completion in 2015. The project comprises of mortuary, theatre, male and female wards, laundry and accommodation for staff.

Fig. 2. Male Ward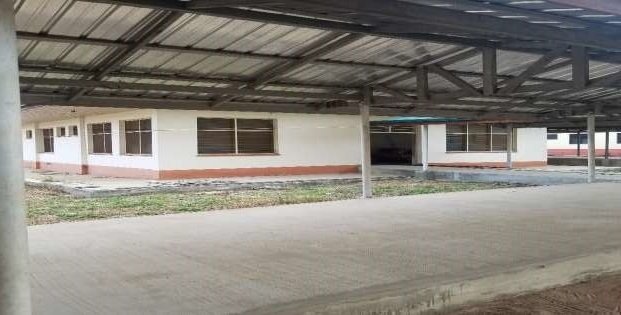 Fig. 3. Female Ward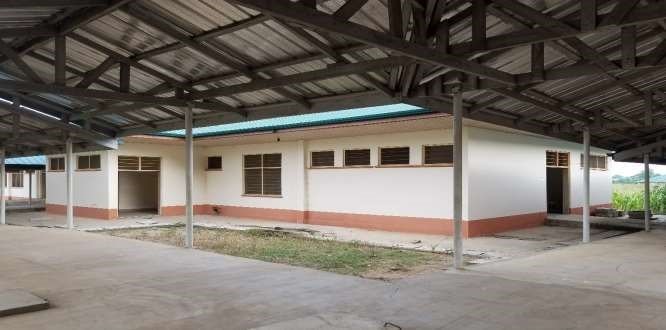 Fig. 4.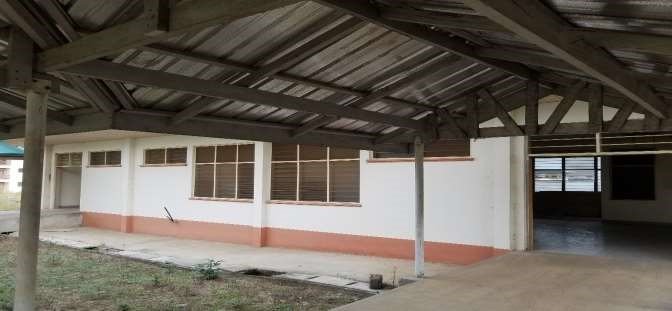 Fig. 5. Laundry
Fig. 6 Uncompleted Mortuary
Fig. 7. Uncompleted Theatre Project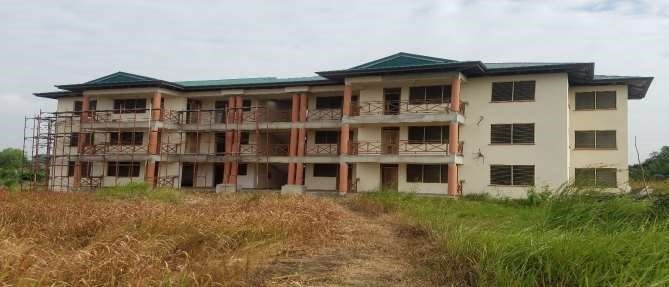 Fig. 8. Uncompleted Staff Flat 1
Fig. 9. Uncompleted Medical Superintendent's Bungalow
Fig.10. Uncompleted Staff Flat 2